We used to just run the website, receive some stories by email and look at our stats to see who was reading the articles.
Then we realised it would be a lot more fun to meet everyone in person in cool places around the world so we starting making some events.
The next event is the Road Junky Festival of Creativity in the forest of the Czech Republic 23-28 of June.
You're invited to join 100 interesting people in a week of learning, free expression and creativity. There will be up to 5 workshops and activities a day giving you the chance to learn new skills, explore your creative potential and meet amazing people from all over the world.
We'll be bringing in a bunch of travelling musicians to jam around the fires through the day and night and will organise activities from singing mantras at night to collective sculptures to collective poetry readings in the forest.
The Festival of Creativity is a different kind of festival – one where you take part! While we will be bringing in a range of teachers and musicians, each person who comes can propose to teach or share or organise an activity whether it's a moonlight walk on the hill or a discussion circle on the Meaning of Life.. The idea is to get involved, get inspired and share who you are!
We'll be camping in a beautiful range of hills in the North East of the Czech Republic and we'll provide all the food, tea and coffee each day as we eat, sing and learn together.
The festival costs 120 euros including food or 99 if you lead a workshop!
Sahara Meditation and Yoga Retreats
And each winter we run meditation and yoga retreats in the Sahara Desert in Morocco. The next one is 17-23 January 2016
We've been running the Sahara retreats since 2011 and they just keep getting better and better. In the emptiness of the desert everyone lets go of their masks, and finds a new way of being and relating, connecting to the joy of being alive. We make workshops on meditation, yoga, singing and dance, and everyone goes home quite different people than they arrived!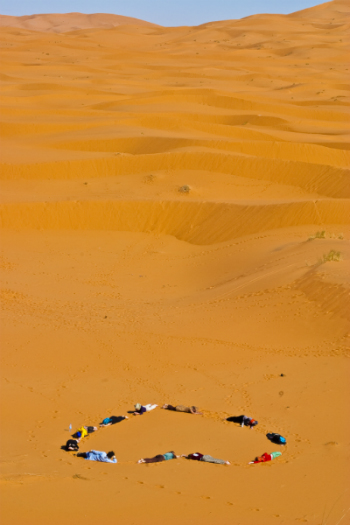 If you've ever tried to meditate but found it hard to keep your attention in the here and now in the rush of your daily routine, in the Sahara there can be such stillness and quiet that you can hear your own blood as it flows around your body. With no cell phones or internet you can tune into your original rhythm and experience the joy of being alive.
If you'd like to hear more about our events just sign up for our newsletter or join the Facebook group to get an invite to the next one!